Wild Heart, Peaceful Soul
, is a beautiful collection of poems that tell the stories of strong, vulnerable, courageous women who love deeply, sometimes fall hard but always lead with their hearts. It is a deep and gritty, fresh and robust look at the thrill of loving unconditionally, as well as the mental and physical toll that it takes when peace and harmony are sometimes lost in the process. Drawing on personal experiences from her own journey of the past 30 years, J Autherine delves into the vulnerable hearts of women from around the world, including from her early years in
Jamaica
.
Growing into Greatness with God
, 7 Paths to Greatness for our Sons and Daughters is inspired by her own experiences growing up in
Jamaica
, as well as her experience raising her three sons to recognize and nourish what God has planted within each of them. Her goal, through her writing, is to empower adults and children to see themselves as unique and amazing, already blessed with the ability to succeed in life and achieve their dreams.
Janet was born in
St. Thomas
,
Jamaica
, and immigrated to the
United States
when she was twelve. She grew up in
Philadelphia
and graduated from
Pennsylvania
State
University
and
Boston
College
Law
School
. Janet continues to practice law but wakes up at
5am
almost every morning to cultivate her inspirational writing and introduce readers to great books through her publishing company, Autherine Publishing. She is a proud introvert and running and reading are her peaceful passions.
Her books are available on Amazon and she blogs at
www.JanetAutherine.com
.
Facebook Address: https://www.facebook.com/JanetAutherineJ/
Inside the Book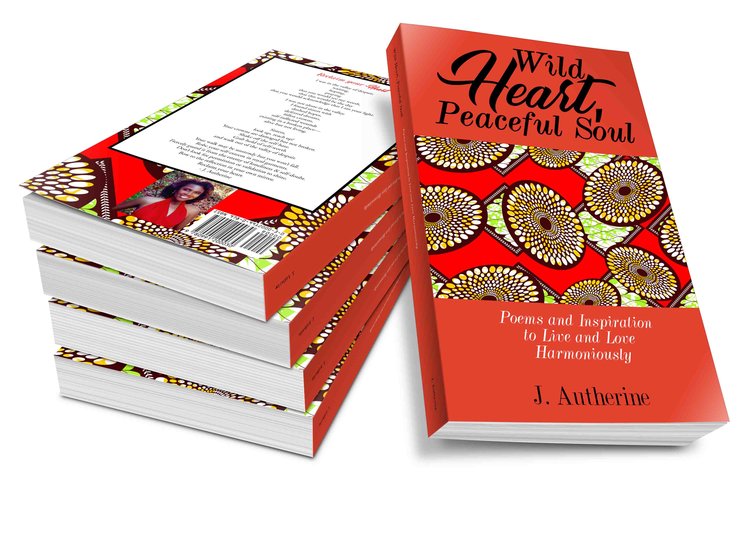 Title: WILD HEART, PEACEFUL SOUL: POEMS AND INSPIRATION TO LIVE AND LOVE HARMONIOUSLY
Author: J. Autherine
Publisher: Autherine Publishing
Pages: 158
Genre: Poetry
BOOK BLURB:
Wild Heart, Peaceful Soul
, is a beautiful collection of poems that provide inspiration to strong, vulnerable, badass women who love deeply, sometimes fall hard but always lead with their hearts. It is a deep and gritty, fresh and robust look at the thrill of loving unconditionally, as well as the mental and physical toll that it takes when peace and harmony are sometimes lost in the process.
Drawing on personal experiences from her own journey of the past 30 years, J Autherine delves into the vulnerable hearts of women from around the world, including from her early years in Jamaica. Poems such as
Quiet Storm
reveal the pain of sudden loss, while
The Rebel Soul
carries with it that air of doubt or uncertainty we all feel when in love.
The pain and struggle of women who love deeply and pour into others without first filling their own jars is prevalent throughout, as is the reoccurring theme of reclaiming your heart in order to live and love harmoniously.
Wild Heart, Peaceful Soul
has the ability to pick you up in moments when you feel broken or not good enough to be loved and provide the strength in the love you always need as we search for the one who is worthy of our love.
ORDER YOUR COPY:
Q: Welcome to The Writer's Life! Now that your book has been published, we'd love to find out more about the process. Can we begin by having you take us at the beginning? When did you come up with the idea to write your book?
I am really excited to share my first book of poetry and inspiration, Wild Heart, Peaceful Soul! This collection of poems and inspiration is a love offering to strong, vulnerable, badass women who lead with their hearts, love deeply and sometimes fall hard.

The poems are inspired by my own journey spanning 30 years; it also dives deeply into the vulnerable hearts of women globally. Many of the poems capture the pain and struggle of women who love deeply and pour into others without first filling their own jars.

The poems and inspirational quotes provide empowerment by holding a mirror to our common struggles and motivate us to care for ourselves and rise above our challenges.


My writing journey started as a child in

Jamaica

, I spent a lot of time memorizing verses both in church and in school (songs, poems, written word).





After moving to the

United States

, I started reading everything that I could find by great authors, such as Dr. Maya Angelou. Her poems, "Phenomenal Woman" and "Still, I Rise" gave me the courage to walk confidently in the world. Books by Maya Angelou and Toni Morrison also sparked my love for issues that are close to the heart of women. As women, we spend our lives caring for others and putting the needs of others first. This often comes at a cost to our emotional and physical health and well-being and Wild Heart, Peaceful Soul doesn't shy away from the tough issues. Many of the poems in the chapter, Wild Heart, deal with self-sacrificing behaviors that eat away at our self-esteem. The poems in the chapter, Peaceful Soul, are empowering and help us find our way back to being the "Phenomenal Woman" that sister, Maya envisioned for all women.
Q: How hard was it to write a book like this and do you have any tips that you could pass on which would make the journey easier for other writers?
Poetry usually comes from the heart. The words come from a very vulnerable place. I would advise writers to focus on truth and authenticity of emotions.





When you leave your heart on the page, readers can relate to you and it will resonate with them. In Wild Heart, Peaceful Soul, I tried to capture the stories about love and life that women only speak about to their best friends, if at all.
Q: Who is your publisher and how did you find them or did you self-publish?
My books are published by Autherine Publishing, which is a company that I started. My primary goal is to publish content that is inspirational and will motivate readers to live boldly and confidently walk into their purpose.
Q: Is there anything that surprised you about getting your first book published?
During the writing process, it is easy to get discouraged, especially when writing inspirational material. As a writer, you wonder if any of it really matters. I was really surprised when I posted a few excerpts on my Instagram page (@j.autherine) and realized that it was really resonating with readers. I am always surprised at the marketing process. I encourage writers to start building their audience through a website and social media the minute that they begin writing the book. By the time that the book is published, readers will be eagerly anticipating the arrival of your work.
Q: What other books are you working on and when will they be published?
My next book is Everything's Irie: An Island Girl's Approach to Mindful Living and Being. It is the story of how my childhood in

Jamaica

has influenced every step of my journey.

It is a testament to how a loving home, hard work, optimism, a good education and some good fortune can inspire a young girl to stay grounded through many of the struggles of life.

As a tribute to Jamaica and the many islands that bring us fun and "Irie" times even when the people that serve you with a smile are fighting their own battles, I coined the term "island mindfulness"; Island mindfulness is focusing on mindful living and being; it is living in the moment, whatever that moment brings, knowing that you can weather any storms that will come your way.

It will be available on Amazon January 2019.
Q: What's one fact about your book that would surprise people?
Readers will be surprised by the mix of vulnerability and empowerment. A reoccurring theme in Wild Heart, Peaceful Soul is reclaiming your heart in order to live and love harmoniously.

Chapter 1, Wild Heart, takes the reader on a journey of self discovery — being an empath in a sometimes harsh world, feeling broken after losing love, not feeling good enough to be loved, facing rejection and abandonment, and navigating life with a heart that just wants to love unconditionally. The second chapter, Peaceful Soul, is an empowering meditation on the peace that comes with reclaiming your heart — finding strength in the love and support of sister friends, practicing self-love while responsibly loving others, and finding joy in loving those that are worthy of our love. As readers journey through the book, it feels like a best friend just poured her heart out to you as you sat in a coffee shop together and you bothleave feeling closer, stronger and empowered.
Q: Finally, what message are you trying to get across with your book?
Live boldly! Embrace all that you are! Embrace your journey! You can be both strong and vulnerable at the same time. Most importantly, care for your mind, body, heart and your soul because it is difficult to live your best life unless you are in a healthy place physically and emotionally.
Q: Thank you again for this interview! Do you have any final words?
Thank you for the opportunity to share my story and the story of women globally through poetry. I am thrilled that poetry is again being embraced.
# Interviews